This picture sure looks like the ordination of a bishop in the Anglican Church: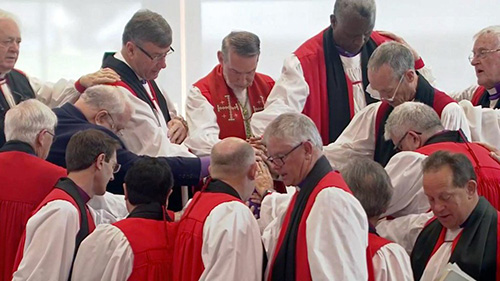 There are some bishops in this photo who currently serve in dioceses of the Anglican Communion (as well as others who do not). But they are there in Christchurch, New Zealand without the permission of the bishop of Christchurch or Te Wai Pounamu or the Archbishops of Aotearoa, New Zealand, and so no this is not the ordination of an Anglican bishop. The Anglican church operates some pretty strong protocols and one of those is that the Bishop and the Synod (clergy and laity) of each diocese (region) get to say what goes on in their place. And they relate to each other with respect and collegiality and do not cross the boundaries unless invited. So the so called "ordination" of Rev Jay Behan, a former Anglican priest, on Saturday 20 October 2019, was not the ordination of an Anglican bishop.
Rev Bosco Peters gives an excellent summary of the service here .
Our Archbishops have strongly condemned the ordination here and in particular highlight the appropriation of our Anglican history and use of the word Aotearoa which in our church context refers to the Pihopa o Aotearoa. This new "church" have done no work on their Treaty partnerships.
Bishop Peter Carrell made a clear statement to his diocese (scroll down)
and Thinking Anglicans collected comment on the service and the outrageous statements of the Archbishop of Sydney in the same week here.
As Bishop Peter Carrell points out, having serving Archbishops (Sydney, Rwanda) and serving bishops from other countries take part in a breakaway ordination brings Anglican Communion relationships to a new low. If people wish to leave and start a new church of course they can. But they cannot at the same time call themselves Anglican and those who remain cannot then authenticate those who leave.
As our Archbishops point out founding a church on exclusion is simply not the Jesus way.
On a final note it was disappointing to see in amongst the greetings presented at the service Bishop Richard Ellena (former bishop of Nelson), speaking as the Chair of the Church Missionary Society. CMS is an overseas agency supported by parishes across our church via the Anglican Missions Board. I have written to AMB asking that none of our St Matthew's annual donation goes to the work of CMS. We will channel our donations to agencies who are inclusive of all.
We continue at St Matthew-in-the-City to welcome all to the table and get on with following the Jesus way.